Costimulatory and coinhibitory immune checkpoint receptors in head and neck cancer: unleashing immune responses through therapeutic combinations
Cancers of the Head & Neck
2016
1:12
Received: 27 June 2016
Accepted: 1 September 2016
Published: 1 October 2016
Abstract
Head and neck squamous cell carcinoma (HNSCC) represents a model of escape from anti-tumor immunity. The high frequency of p53 tumor suppressor loss in HNSCC leads to genomic instability and immune stimulation through the generation of neoantigens. However, the aggressive nature of HNSCC tumors and significant rates of resistance to conventional therapies highlights the ability of HNSCC to evade this immune response. Advances in understanding the role of co-stimulatory and immune checkpoint receptors in HNSCC-mediated immunosuppression lay the foundation for development of novel therapeutic approaches. This article provides an overview of these co-stimulatory and immune checkpoint pathways, as well as a review of preclinical and clinical evidence supporting the modulation of these pathways in HNSCC. Finally, the synergistic potential of combining these approaches is discussed, along with an update of current clinical trials evaluating combinations of immune-based therapies in HNSCC patients.
Keywords
Head and neck cancer
Immune checkpoints
Costimulatory receptors
CD137
CD40
OX40
PD-1
CTLA-4
Cetuximab
Immunotherapy
Background
Head and neck squamous cell carcinoma (HNSCC) is the sixth most common cancer in the world, affecting over 500,000 people each year [1]. While HPV-associated HNSCC responds well to standard anti-cancer therapies, five-year survival rates of carcinogen-induced HNSCC are 60 % or less [1]. This poor prognosis despite advances in chemotherapy, radiation, and surgical protocols highlights the need for treatments with greater efficacy in the HPV- population, and improved toxicity profiles for HPV+ patients. Advances in understanding the role of the immune system in preventing development and growth of HNSCC has led to renewed focus on immune-targeting therapies as a means of achieving these goals.
In a process termed immune surveillance, recognition of non-self antigens on tumor cells allows for their destruction by the host immune system [2]. The high frequency of p53 tumor suppressor loss in HNSCC leads to significant genomic instability and the generation of neoantigens, which can activate the immune system and attract infiltrates of effector T-lymphocytes and natural killer (NK) cells into the tumor [3–5]. These adaptive anti-tumor immune responses have been correlated with improved outcomes in many cancers, including HNSCC [6, 7]. However, in order for a clinically significant cancer to develop, the tumor must escape from this anti-cancer immunity through a variety of mechanisms [8]. HNSCC represents an ideal model for understanding and targeting these mechanisms of immune escape in order to unleash the full power of the immune response that can be induced by its characteristically high genetic alteration rate. On the other hand, HPV+ HNSCC is an excellent model of viral-induced cancer, in which oncoproteins such as E6 and E7 are by definition antigenic and therefore tumor development is predicated upon evasion of antiviral immunity [9].
Once recruited to the tumor microenvironment, T-cells interact with antigen-presenting cells (APCs) at the "immune synapse," and require two simultaneous signals from APCs before they can be activated to mediate their anti-tumor effects (Fig.
1
). The first, "signal one," occurs through interaction of the T-cell receptor (TCR) on the surface of the T-cell and a major histocompatibility complex (MHC) molecule presenting tumor antigen on the surface of an APC (Fig.
1
, blue). The second, "signal two" is made up of interactions between co-stimulatory molecules on the surface of APCs and T-cells, such as B7 on the APC surface and CD28 on the T-cell (Fig.
1
, green) [
2
]. Both of these signals must also occur in the context of a third signal made up of immune-activating cytokines such as IL-12, type I (IFNα/β) or type II (IFNγ) interferon [
10
,
11
].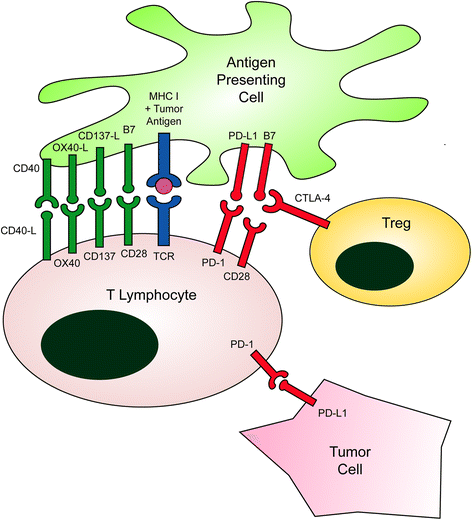 In contrast to these co-stimulatory molecules, the inhibitory "immune checkpoints" prevent T-cell activation. These checkpoints normally function to prevent exaggerated immune responses and subsequent autoimmune disease. However, HNSCC subverts this physiologic function in order to suppress tumor-directed immune activation. The two best known checkpoints include programmed death-1 (PD-1) and cytotoxic T-lymphocyte-associated protein 4 (CTLA-4), both of which are the targets of FDA-approved inhibitory antibodies [12].
Like other cancers, HNSCC tumor cells mediate immunosuppression in the tumor microenvironment (TME) through mechanisms including upregulation of PD-L1 expression and release of immunosuppressive factors [13]. In addition, recruitment or differentiation of immunosuppressive regulatory T cells (Tregs) and myeloid-derived suppressor cells (MDSCs) represent key mechanisms of immune escape. This review will focus on co-stimulatory receptors, inhibitory checkpoint receptors, and combination immunotherapies in HNSCC.
Review
Activating co-stimulatory receptors to enhance anti-tumor immune responses
As mentioned previously, the co-stimulatory receptors that make up "signal two" play a central role in the activation of tumor-fighting T-cells. Absence of this co-stimulatory signal can lead to induction of T-cell anergy or apoptosis and decreased strength of the immune response. In addition to the classically described CD28/B7, other key co-stimulatory interactions between T-cells and APCs, respectively, include CD137/CD137-L, OX40/OX40-L, and CD40-L/CD40 (Fig. 1). These costimulatory receptors are members of the tumor necrosis factor receptor superfamily. Decreased expression of CD137, OX40, CD27, and CD28 have been observed on T-cells derived from HNSCC patients compared to those from healthy controls, emphasizing the potential benefits of targeting these co-stimulatory pathways in this population [14–16]. Agonists of co-stimulatory receptors are currently under investigation in multiple trials for HNSCC and other malignancies. Liver toxicity and cytokine storm symptoms have been reported with costimulatory agonists, but these immune-related adverse events (irAEs) may be dose-dependent. Though extensive information on irAEs of these agents is not yet available, they appear to be well tolerated [17].
CD137
CD137 (also known as 4-1BB) is a costimulatory receptor expressed on the surface of activated T-cells, NK cells, and dendritic cells. When bound by its ligand (CD137-L) on the surface of APCs such as macrophages, dendritic cells, and B cells, trimerization of activated CD137 enhances proliferation, cytotoxic capacity, and survival of T-cells [18]. Stimulation of CD137 with an anti-CD137 monoclonal antibody (mAb) has been shown to induce T-cell mediated eradication of established solid tumors in mice [19]. Although anti-CD137 mAb has not been effective as a monotherapy in HNSCC models, it has been shown to synergize with chemoradiation in a model of HPV+ HNSCC to inhibit tumor growth [20, 21].
Two humanized monoclonal antibodies (mAb) against CD137 have been developed including urelumab (IgG4) and PF-05082566 (IgG2) [12]. These antibodies have been evaluated in early phase trials in melanoma, non-small cell lung cancer (NSCLC) and lymphoma, as monotherapy or in combination with rituximab [12]. Studies of CD137 mAb in combination with other immunotherapies are underway in solid cancers including HNSCC, and are discussed further below.
CD40-L
CD40-L expressed on the surface of activated CD4 T-cells binds to CD40 on APCs, playing a key role in the "helper" T-cell function to activate APCs to prime CD8 T-cells [22]. Expression of both CD40 and CD40-L decrease with increasing HNSCC stage, and surgical resection results in increased APC expression of CD40 [23]. These data implicate downregulation of this co-stimulatory pathway in HNSCC immune escape, with subsequent reversal following surgical resection of the tumor bulk. In addition to its expression on immune cells, CD40 has also been identified on HNSCC cell lines and human HNSCC tumors [24, 25]. The precise role of CD40 in this context is controversial, as ligation of CD40 has been shown to inhibit growth of HNSCC cell lines while also inhibiting cancer cell apoptosis and increasing secretion of proangiogenic cytokines [24, 25]. In vitro studies of agonistic CD40 mAb induced APC activation and maturation, and recombinant CD40L increased the ability of APCs to cross-prime naïve T-cells to tumor antigens [26, 27]. These data suggest a role for this approach in augmenting responses to tumor vaccines, which has been demonstrated in a murine solid tumor model [28].
A variety of CD40-targeting therapies have been developed, including agonistic mAbs and recombinant ligands. Although this approach has not been studied specifically in the HNSCC population, one HNSCC patient treated in a phase I trial of recombinant CD40-L experienced a durable and complete response [29]. Phase I trials of agonistic CD40 mAb alone and in combination with standard therapies have shown promise in a variety of solid tumors, encouraging further studies of this approach in combination with other immune-targeting therapies [30–32].
OX40
Like CD137, OX40 is a co-stimulatory molecule expressed on the T-cell surface that promotes T-cell proliferation, cytokine secretion and memory function when bound by its ligand (OX40-L) [12]. The relevance of OX40 to the local immune response in HNSCC has been demonstrated by the observation that close to 30% of T-cells within the tumor and tumor-draining lymph nodes of HNSCC patients expressed OX40, compared to none of the peripheral blood mononuclear cells (PBMCs) [33]. OX40 is also expressed on regulatory T-cells (Tregs), and appears to inhibit Treg-mediated immunosuppression [34]. Although not explicitly evaluated in HNSCC models, OX40 agonism has improved tumor-free survival in a number of solid tumor models through expansion of tumor-specific CD4+ T-cells [34]. An agonistic OX40 mAb was also shown to synergize with cytolytic therapy through apoptosis of Tregs and enhanced CD8 T-cell response [35]. In a sarcoma model, surgical resection followed by adjuvant anti-OX40 treatment resulted in improved survival and increased antigen-specific T-cell proliferation compared to surgical treatment alone [36].
A phase I trial of the murine agonistic anti-human OX40 mAb 9B12 in patients with refractory solid tumors demonstrated a mild toxicity profile and promising immunologic correlates (NCT01644968) [37]. Although no objective responses were observed, 12 out of the 30 patients experienced regression of at least one metastatic tumor deposit [37]. Additional therapies targeting OX40, including the anti-OX40 mAbs MEDI6469, MEDI0562, PF-04518600, and the OX40L fusion protein MEDI6383, are currently in phase I trials in patients with advanced solid tumors (NCT02205333, NCT02318394, NCT02315066, NCT02221960). In addition, based on the promising preclinical data combining anti-OX40 treatment with surgery [36], a phase Ib trial of OX40 agonistic mAb MEDI6469 prior to definitive surgical resection is currently recruiting patients with locoregionally advanced HNSCC (NCT02274155).
Inhibiting immune checkpoint receptors to enhance anti-tumor immune responses
A reciprocal approach to agonism of co-stimulatory receptors is the inhibition of the immunosuppressive checkpoint receptors. These molecules are upregulated by immune activation, and serve a physiologic role by preventing excessive inflammation and autoimmune disease. However, when overexpressed in the TME, these checkpoints contribute to tumor-promoting immunosuppression, and therefore represent a promising target for disinhibiting immune responses against tumor cells and improving HNSCC patient outcomes. Immune-related adverse events (irAEs) may occur in patients treated with these drugs, including rash, gastrointestinal symptoms, thyroid disorders or autoimmune pneumonitis; however these irAEs are now easily recognized and treated with steroids and/or cessation of the drug in most cases [38].
Combination immunotherapies for maximal enhancement of anti-tumor immune responses
Although many of the above mentioned immunotherapy approaches have shown significant efficacy in certain patients, there is room for improvement with regards to expanding response rates. Current efforts focus on the rational combination of immunotherapy approaches in order to increase the breadth and depth of patient responses (Table 1). It is important to note, however, that combination immunotherapies may increase the frequency and/or severity of immune-related adverse events [38].
Conclusions
Recent advances in understanding the balance between costimulatory and inhibitory immune pathways at the immune synapse have encouraged interest in re-directing these signals from tumor-promoting immunosuppression towards tumor-fighting immunity. With the development of an array of costimulatory agonists and checkpoint inhibitors, these immune-based strategies have become a focal point for research in many cancers, including HNSCC. In addition to focusing on clinical application of these novel immunotherapies, much work is underway to investigate mechanisms of resistance in those patients who do not achieve durable responses. Rational design of combination strategies represents a promising approach to target resistance, while care must be taken to avoid immune over-activation and serious autoimmune consequences.
Abbreviations
APC:

Antigen-presenting cell
CTLA-4:

Cytotoxic T lymphocyte-associated protein 4
EGFR:

Epidermal growth factor receptor
HNSCC:

Head and neck squamous cell carcinoma
HPV:

Human papillomavirus
IMRT:

Intensity modulated radiation therapy
LAG-3:

Lymphocyte-activation gene 3
mAb:

Monoclonal antibody
MDSC:

Myeloid-derived suppressor cell
MHC:

Major histocompatibility complex
NSCLC:

Non small-cell lung cancer
PBMC:

Peripheral blood mononuclear cell
PD-1:

Programmed death-1
PD-L1:

programmed death-1 ligand
TCR:

T-cell receptor
TIM-3:

T-cell immunoglobulin mucin 3
TLR:

Toll-like receptor
TLR:

Toll-like receptor
TME:

Tumor microenvironment
Treg:

Regulatory T-cell
Declarations
Acknowledgements
Not applicable.
Funding
This work was supported by NIH, National Institute on Deafness and Other Communication Disorders intramural project number ZIA-DC-DC000090. The NIH had no direct role in the writing of this manuscript.
Availability of data and materials
Not applicable.
Authors' contributions
RJD drafted the manuscript and carried out a literature review, NCS carried out the primary literature review and helped to draft the manuscript, RLF conceived of the review and helped to draft the manuscript. All authors read and approved the final manuscript.
Competing interests
RLF serves as a paid member of committees, panels or boards for Merck, Celgene, Bristol Myers Squibb, and AstraZeneca/Medimmune, and receives research funding from VentiRx, Bristol Myers Squibb, and AstraZeneca/Medimmune.
Consent for publication
Not applicable.
Ethics approval and consent to participate
Not applicable.
Open AccessThis article is distributed under the terms of the Creative Commons Attribution 4.0 International License (http://creativecommons.org/licenses/by/4.0/), which permits unrestricted use, distribution, and reproduction in any medium, provided you give appropriate credit to the original author(s) and the source, provide a link to the Creative Commons license, and indicate if changes were made. The Creative Commons Public Domain Dedication waiver (http://creativecommons.org/publicdomain/zero/1.0/) applies to the data made available in this article, unless otherwise stated.
Authors' Affiliations
(1)
Tumor Biology Section, Head and Neck Surgery Branch, National Institute on Deafness and Other Communication Disorders, National Institutes of Health, Bethesda, USA
(2)
Department of Otolaryngology, Hillman Cancer Center Research Pavilion, University of Pittsburgh, Pittsburgh, USA
(3)
Department of Immunology, Hillman Cancer Center Research Pavilion, University of Pittsburgh, Pittsburgh, USA
(4)
Cancer Immunology Programm, Hillman Cancer Center Research Pavilion, University of Pittsburgh Cancer Institute, Pittsburgh, USA
(5)
Department of Otolaryngology-Head and Neck Surgery, Johns Hopkins School of Medicine, Bethesda, USA